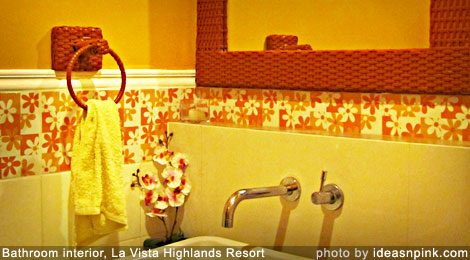 Home design tips: Bathroom design and maintenance
Having a functional and streamlined bathroom design is important, making it easier to clean the area and arrange stuff in a well-organized manner. One can get inspiration for an upcoming bathroom design project by browsing over a lot of residential and interior design resources, from books, magazines and websites.
There are so many styles on bathroom furniture and fixtures available nowadays, from toilets, bathroom taps, whirlpool baths, showers, to varied bathroom accessories and more. I like it when bathrooms look simple yet classy with some attractive accents and decors to liven up the overall look. You can make it more elegant with some decorative scented candles, wall art or indoor plants, to match your bathroom design theme.
Bathrooms should not only look good, they also need to be properly-maintained. Whether it's one of those luxurious bathroom suites or a small and compact toilet and bath, the bathroom should always be squeaky clean and the fixtures in good working condition. Regular maintenance of bathroom fixtures is important. If possible, a skilled and certified technician or plumber should be called over for repairs and replacement, unless you have an all-around handyman at home like my dad.
Oftentimes, the problem can be easily repaired in minutes, like what happened to my brother's condo unit in Parañaque – the faulty toilet was fixed with just a simple connection. Too bad we were so busy; we only had the time to have it checked and repaired after the guests were gone. It was definitely a valuable lesson for us, to have the units periodically checked and well-maintained. This just goes to show that the bathroom is one of the busiest rooms in the house.
For owners of apartments and condo units for rental, the bathrooms should be regularly checked within the leasing period. A scheduled inspection should be part of the lease agreement with the tenants, along with the other areas of the unit.
As with the other rooms and areas in the house, it's important to discuss with your architect and interior designer your ideas and preferences before the bathroom design plan is finalized. Major design changes are difficult to implement once construction is already ongoing. A well-designed, hygienic and properly-maintained bathroom easily makes it as one of your favorite places at home.
Like and share this post!
Tweet
Follow @ideasnpink