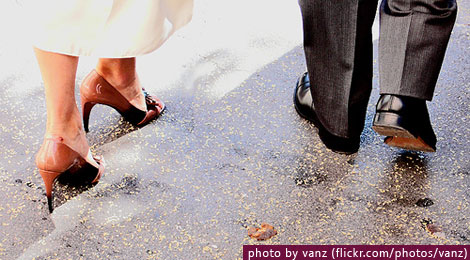 It's not the wedding, it's the marriage!
One of the ladies in our prayer community finally tied the knot last month. It was just a simple wedding ceremony, proof that couples don't need to ridiculously spend a lot and deplete their finances in order to marry.
As the wise would always advise couples on their wedding preparation, "It's not the wedding; it's the marriage that counts most!" Thus, stressing the importance of focusing more on the couple's upcoming married years than their wedding day. I know a lot of couples who think getting married requires so much from their pockets. It's actually just a matter of eliminating the unnecessary frills that most 'normal' weddings require.
Our friend knew they can't afford the usual wedding with the invitation cards, tokens and gifts, bridal entourage and all the other extras. They did away with the invitation cards, and personally invited their guests instead. Their wedding ceremony did not have the usual best man, maid of honor, bridesmaids and groomsmen, as most weddings do. They exchanged their vows with simple wedding rings which were definitely not ordered at luxury jewelry shops. They didn't hire a wedding choir but was contented with the regular group provided by the church. There were relatively few guests, about 20 or so. Nope, they didn't invite the whole 'neighborhood'. You can say it was a simple yet intimate wedding reception attended by only their close friends and family.
Kudos to this newlywed couple for not going overboard with their wedding budget. I know some couples who got married with the 'complete' wedding package with about 100 guests, and woke up the next day to a huge mountain of unpaid bills spent for the wedding. Not a good way to start Day 1 as a married couple, right?
A wedding is a once-in-a-lifetime event for couples but the extras and the trimmings that come with it should not overshadow its real essence.
Like and share this post!
Tweet
Follow @ideasnpink