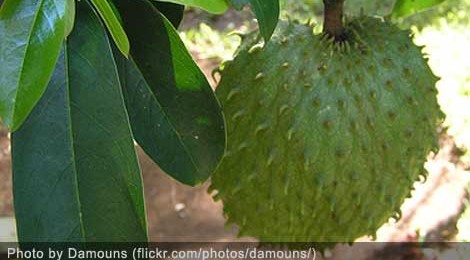 Where to buy Graviola products (tea, capsules, leaves and more)
If you're one of the many who would like to enjoy the health benefits of Graviola (Scientific name: Annona muricata) without the hassles of tea preparation, or if you don't have the plant in your backyard and you can't find it in your local store or market, then you can simply buy Graviola products online
.
Graviola is available and sold in various forms – as tea bags, liquid extract, leaves, powder, seeds and even as an ingredient in a body lotion.
Graviola Capsules
Graviola Tea Bags
Graviola Leaves
Graviola Powder
Graviola Liquid Extract (Tincture)
Graviola Seeds and Lotion
Books on Graviola and other natural remedies
Here at home, we're blessed to have three Graviola trees where we get the leaves for tea preparation. Even though our Graviola trees don't bear fruits regularly, we just buy from the market at an affordable price of about $1 per kilo. Homemade Graviola tea is what we drink usually after lunch and dinner, as a health supplement. Personally, I drink it to cure hyperacidity and heartburns which often come up during my monthly period; it's an effective health tea for relaxation and is best taken before bedtime.
Related Posts:
Sour Sop/Graviola/Guyabano/Babana: Natural Cancer Killer?
How to prepare Graviola Tea (Sour Sop/Guyabano/Babana)
Like and share this post!
Tweet
Follow @ideasnpink