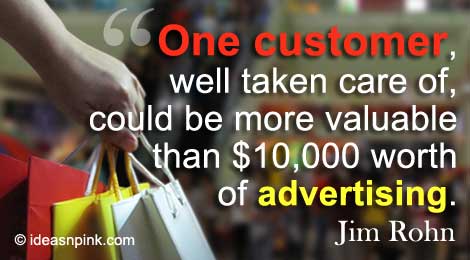 The best marketing tool
Customer satisfaction is always a big factor in the success or failure of a business.
A friend shared her experience when she and her hubby dined at a well-known hotel. She described how they were badly treated by the hotel staff and vowed never to go back to that hotel again. She didn't mention the hotel name but I'm sure if many of us knew which hotel it was, we'd surely feel the same as my friend; we would surely be hesitant about going there too.
Rants and raves from customers are big decision factors for the undecided market. Seeing some candid photos and reading actual customer reviews on products and services affect most of our buying decisions. This is how word-of-mouth marketing greatly affects the rise and fall of many businesses, from small eCommerce sites to prestigious brands and corporations.
How often have we said these to ourselves or heard these from friends:
"This bank doesn't even offer seats for their customers! They're just left to wait and stand in such a long zigzag queue until their turn at the teller. Hmp. I'm going to tell my son not to open a savings account here."
"What a disrespectful waiter and such a slow service! I promise never to dine here again and I'll tell my friend to celebrate her daughter's birthday in another venue."
"Wow! I got freebies today from W beauty store, and the sales attendant was helpful in providing tips about my mom's skin care concerns. I'm definitely going back next week to buy more stuff from them.'"
"Yummy Mexican food! I'll tell my officemates to have our lunch break here tomorrow."
The end result of customer satisfaction is best defined by a wise quote from business guru Jim Rohn,
One customer, well taken care of, could be more valuable than $10,000 worth of advertising.
If you're in customer care/service or own/manage a business, here's a friendly reminder you can use as a desktop wallpaper or share as a life lesson with your work buddies and friends: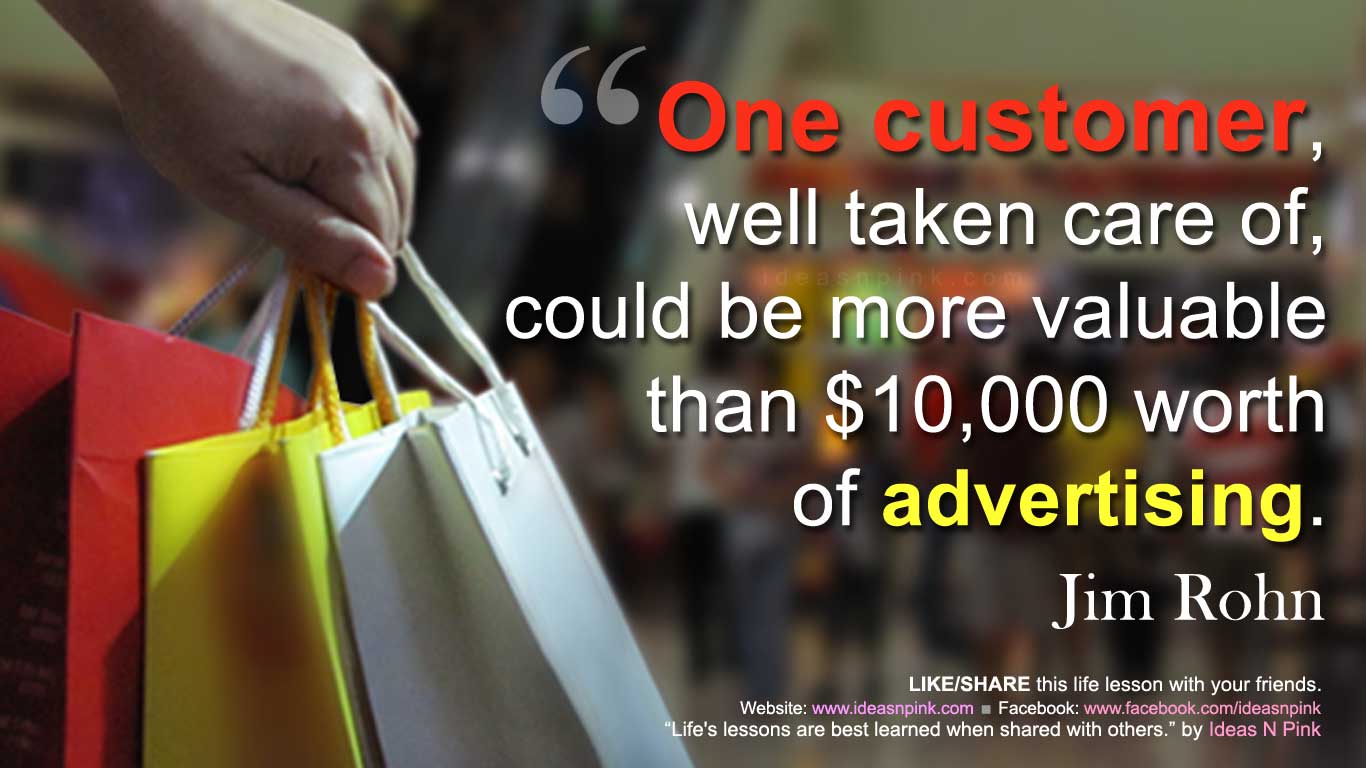 FREE graphic for download (Sizes in pixels: Wallpaper – 1366 x 768 / Wallpaper – 1024 x 768 / Medium – 600 x 465). Click here to access Free download: Business quote on word-of-mouth advertising.
Successful businesses value their customers by being sincere and helpful in dealing with them, being responsive to their needs, making them feel truly important, happy and pleased with their products and services.
Have you been happy or disappointed with a product or service lately? Do you usually share your experience with family and friends, and how does this influence their buying decision?
Like and share this post!
Tweet
Follow @ideasnpink