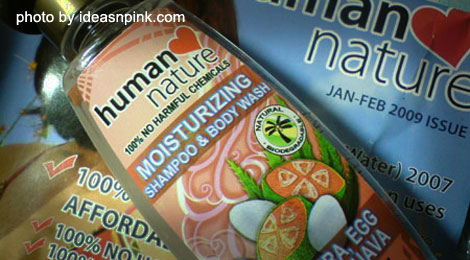 Earth-friendly initiatives
I'm always glad when there are initiatives geared towards environmental conservation and preservation. For instance, there's SM's MYOB (MY Own Bag) every Wednesday which encourages shoppers to bring their own shopping bags instead of having to rely on the store's plastic bags. There's the Trash to Cash, a waste recycling market, every first Friday and Saturday of the month.
Our city government also recently launched a city-wide campaign against plastic bags with their BYOB or "Bring Your Own Bag" project – bring your own bags (paper, recyclable plastic, bayong, canvas, etc.) and containers when shopping.
I was also impressed by Human Nature's packaging for their products (see photo above) – recycled magazines instead of packing it with a plastic with their logo on it as most shops would do. When the Human Nature saleslady handed over the packaging, I was impressed.
I also remember my friend O who gave us gifts wrapped in old newspaper. I really thought it was cool and followed her idea by wrapping presents with old brochures. These are just one of the many simple ways we can do to protect Mother Earth.
What do you think about purchased items and gifts wrapped in used magazines and newspapers? How do you find ways to avoid using plastic wrappers and bags?
Like and share this post!
Tweet
Follow @ideasnpink