Searching for s-video plug
These days, we've been looking for a plug or connector to connect my laptop to the TV. Big sis and I have been to one computer store yet… and haven't found what we've been looking for.
The socket on my laptop looks like this:
I did a bit of research (thanks to Wikipedia!) and got its name – the 7 pin mini-DIN S-Video socket used on laptops and video cards.
"The 7-pin socket accepts the 4-pin plug (unlike the standard 7-pin socket) and the S-video signals are available on the matching pins. When a 7-pin plug is inserted, one of the extra pins carries a CVBS composite video signal for non S-video displays."
Big sis tried inserting a 4-pin mini-DIN plug to a laptop on display recently at the store, but it didn't fit. Hmmmm… maybe we'll have to ask for assistance next time.
Searching for the right connector from computer to TV can be a challenge. Browsing for video connectors and plugs at Amazon
returned some interesting results. How about the Lake PC to TV Converter Box compatible with Windows and Mac (VGA To RCA / VGA To S-Video)
or the Videosecu PC to TV Converter VGA to RCA S-Video Mac Computer Laptop to Composite Video Switcher VGA2TV 1L7
?
Here are the images for the PC to TV converter boxes
mentioned: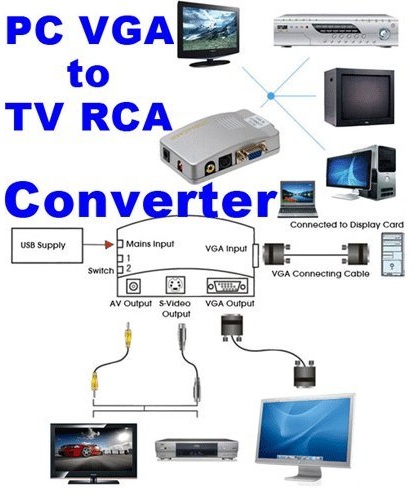 Configuration for the Videosecu PC to TV Converter
So, do you think I'll be able to view my laptop screen on TV with these converter boxes? Do help me out folks! 😉
Photo credits: wikipedia.org and amazon.com
Like and share this post!
Tweet
Follow @ideasnpink