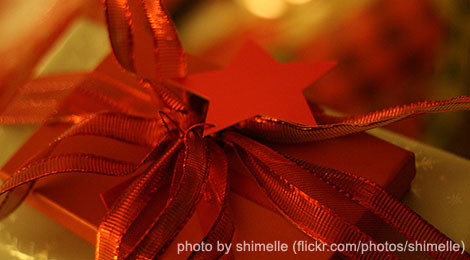 The ultimate gift
If you're going to give a gift to somebody special or important, what would you give that person? Of course, we always say it is the thought that matters most when giving gifts and the person receiving it would always be glad to accept what is given particularly if it is something he/she likes.
But what do you think could be the 'ultimate gift'? Can it be measured in terms of material things and can it be bought by money – a dozen roses, jewelry, a brand new car, new gadget or a brand new house and lot?
An officemate used to lament that she didn't know what to give her mother for her birthday. So I suggested some gift ideas, and she seemed not contented and still worried, then she told me, "She already has everything she needs." That statement just made me stop and think about what she said. Is it really that hard to give something to someone who has everything? Maybe not. It just depends on the gift.
Incidentally, there's an upcoming movie "The Ultimate Gift" based on a book with the same title written by Jim Stovall. It is about a guy named Jason who is to receive a big inheritance from a rich grandfather through a special program wherein he is given a learning assignment to follow every month, for a twelve-month period. If he will be successful, he will receive the Ultimate Gift. The twelve tasks were not that easy since Jason is actually challenged in ways that sent him on a journey of self-discovery and knowing what matters most in life.
The movie, which premieres on March 9, stars Academy Award nominee Abigail Breslin, James Garner, Ali Hillis, Drew Fuller and Brian Dennehy. The book has been out for some years now and it is so heartwarming to know that it has already started a movement which continues to inspire people in sharing and giving. Even a teen charity project "Show of Hands" was inspired by the message of the Ultimate Gift. This is definitely one message we need to sink ourselves in.
This is the official site of the movie "The Ultimate Gift" and the grass-roots movement its starting to help charities and give to others.
Like and share this post!
Tweet
Follow @ideasnpink